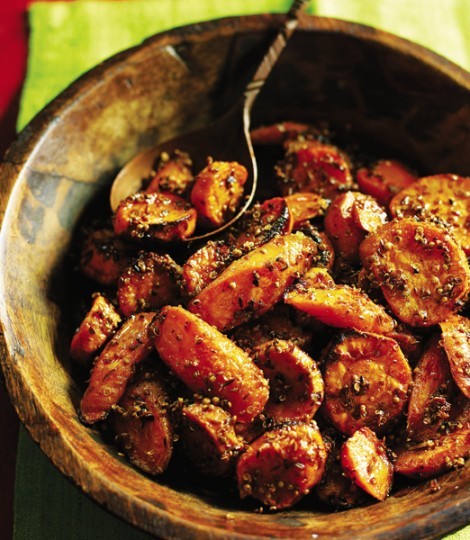 4 carrots
2 small sweet potatoes, thickly sliced
3 tablespoons butter, melted
1 tablespoon olive oil
1 1/2 teaspoons ground cumin
1 teaspoon cumin seeds
1/4 cup honey
2 tablespoons coarsely chopped fresh flat-leaf parsley
1. Preheat oven to 425*F (400*F convection).
2. Cut carrots into 1 1/2-in pieces. Cook carrot and sweet potatoes in large saucepan of boiling water 5 minutes; drain.
3. Combine butter, oil, cumin, seeds and honey in small bowl. Place vegetables on oiled wire rack over large baking dish. Brush vegetables with honey-spice mixture. Roast, uncovered, about 20 minutes, brushing with remaining honey-spice mixture, until vegetables are tender.
4. Serve vegetables sprinkled with parsley.
Prep & Cook Time: 45 minutes
Serves: 4