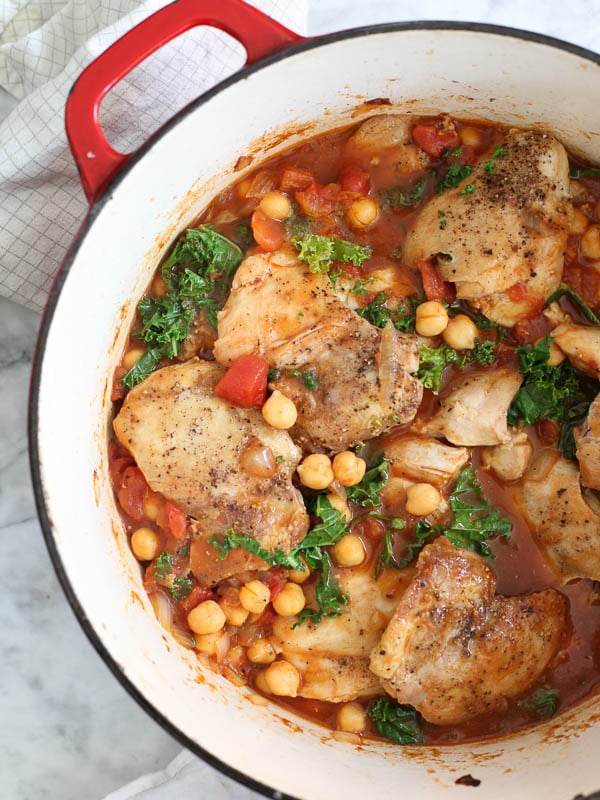 1 tablespoon olive oil
2 onions, thickly sliced
2 teaspoons smoked paprika
3 cloves garlic, crushed
8 boneless, skinless chicken thighs (about 3 pounds)
3 cups chicken stock
1/4 cup lemon juice
2 fresh long red chilies, halved lengthwise
2 cans (15 ounces) chickpeas, rinsed, drained
2 teaspoons Dijon mustard
1/2 cup coarsely chopped fesh flat-leaf parsley
2 teaspoons fresh lemon zest
1. Heat oil in large saucepan; cook onion, stirring, until softened. Add paprika, garlic and chicken; stir to coat chicken in onion mixture.
2. add stock, juice, chilies, chickpeas and mustard to pan; bring to a boil. Reduce heat; simmer, covered, 30 minutes. Uncover; simmer further 30 minutes or until chicken is tender. Season to taste.
3 Serve chicken sprinkled with parsley and zest.
Prep & cook time: 1 hour, 15 minutes
Serves: 4